Better Business Writing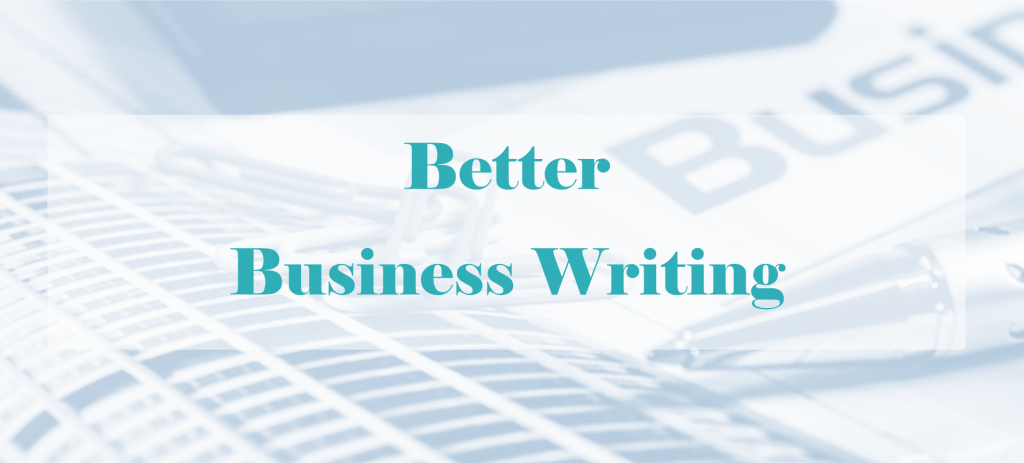 5 Tips to Achieve Your Business Communication Objectives
People make critical business decisions based on information presented through various business writing formats.  It is, therefore, essential that all such communication not only carries the ethos and branding of your business but also conveys a clear and unambiguous message that fulfils its purpose.
Typically, business writing is intended to:
Influence people and businesses to take action;
Convey information;
Justify or explain (e.g., processes, procedures, and expectations);
Direct action; or
Deliver news.

To achieve this synergy between the message and its purpose, we recommend following these 5 tips:
 1. Know Your Audience:
Your tone and delivery may vary depending on the intended recipient and the purpose of the writing; for instance, an internal email to a colleague reminding them of an upcoming meeting will look very different to a product information manual for client use.  It is important to know your audience as this will dictate the appropriateness of certain communication techniques like tone, industry jargon, informal language, visuals and emojis, and contractions.
2. Put your Key Points First and Make Sure they're Clear:
State your key points first to achieve your business communication objectives.  Your audience should not have to sift through volumes of unnecessary or irrelevant information, potentially diluting your message.  Think about how you could effectively use email subject lines, titles and keywords.  These are the simplest means of instantly introducing the reader to the purpose and intent of your communication.
3. Keep Language Simple:
Keep your business writing simple and to the point; this will get your message across more clearly and can be achieved through a multitude of techniques, like using everyday words and using the active rather than the passive voice.
4. Use Your Active Voice:
Not only does the active voice reduce the word count, but it also makes your writing sound more decisive by delivering a clearer and crisper message.  For example,
– A decision was taken by the Board to pivot the business (Passive);
– The Board decided to pivot the business (Active).
5. Keep it Professional:
Regardless of the purpose of the business communication, always maintain a level of professionalism, even if you're just sending a quick-fire email to a colleague.  It's not only the business's reputation that can be affected by miscommunication but your own professional reputation too.

In Conclusion:
These 5 tips will help you avoid the more common errors found in business communications but the list is not exhaustive.  Honing your business writing skills is certainly a worthwhile endeavour alternatively, if you are not confident in your business writing, consider outsourcing your more important technical and professional writing.